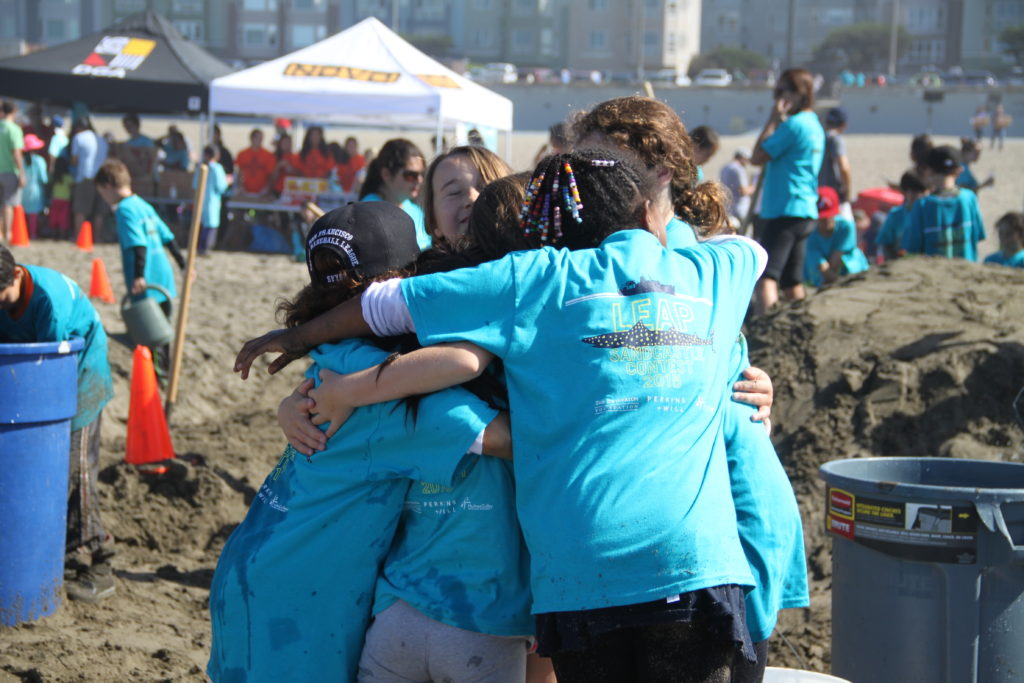 Q: What is Leap's Sandcastle Classic?
A. The Sandcastle Classic is Northern California's largest sandcastle competition. Teams typically comprised of architects, engineers, contractors, designers, corporations, and elementary school students work together to create giant sand sculptures. Although the building process will look a little different this year (details below), the funds raised by participants and sponsors will continue to make it possible for Leap to provide high-quality arts learning experiences to 8,500 Bay Area students across 30 schools each year.
---
Q. Why is the Sandcastle Classic essential?
A. This iconic SF event raises 30% of the costs required to deliver Leap's arts education programs. Our 2023 Sandcastle Classic goal is to raise $300,000 to help Leap bring the arts where they are needed most. We rely on the Sandcastle Classic fundraising season to power Leap's operations.
---
Q. What is the updated 2023 Sandcastle Classic theme?
A. The 2023 Sandcastle Classic theme is Halloween Haunts, and teams will be including Halloween elements in their sandcastle design, t-shirt design, fundraising, and promotion. Costumes are encouraged!
---
Q. When is the Sandcastle Classic?
A. Leap's 41st Annual Sandcastle Classic will take place online on Saturday, October 28th, 2023, kicking off at 11:00 AM on Ocean Beach. Additional events will take place over the summer and weekly during the month of October leading up to the main event. More details about the season calendar and program schedule for the October 28th event will be posted to the Main Event Schedule and Events pages.
---
Q. Who can participate in the Sandcastle Classic and how can I get involved?
A. Teams of Architecture, Engineering, Design, Construction and Tech companies come together and register to compete alongside Bay Area students. We also invite the public to register as Individual Participants and come out to help build in our Community Castle.  Read more about the different ways to get involved on the registration page.
---
Q. Can I still register to participate?
A. The deadline to register as a Sandcastle Team is August 15, 2023. Registration is open for Individual Participants through October 15, 2023. The public can drop in at Ocean Beach on October 28th, and do not need to formally register.
---
Q: How can I get my child's school involved?
A: To get a specific school involved, please contact Leap at [email protected]
Q: How do I volunteer?
A: Learn more about volunteering at the Sandcastle Classic.
Q: What is the event hashtag?
A: #LeapArts
#SandcastleClassic
---
Not finding what you need? Reach out directly through our Contact Us page.