2023 Event Schedule
General Day of Schedule
Wondering what beach day is going to look like? Here is the general beach day schedule for us at Ocean Beach at Balboa Street:

8:00 AM – 10:00 AM Teams arrive, Check-in and head to assigned beach site
10:00 AM – Teams may begin to prep their sites
10:00AM-10:30AM – Students arrive
11:00 AM – Sandcastle Building begins with live DJ onstage!
11:45 AM – Castle Introductions by student representatives from each team (Sites 11-21)
1:30PM – Castle Introductions by student representatives from each team (Sites 1-10)
2:30 PM – Sandcastle Building ends
2:30 PM – Dog Costume Contest on stage
2:40 PM – Performance by dance group Culture Shock
3:00PM – Award Ceremony
3:30PM – Event Ends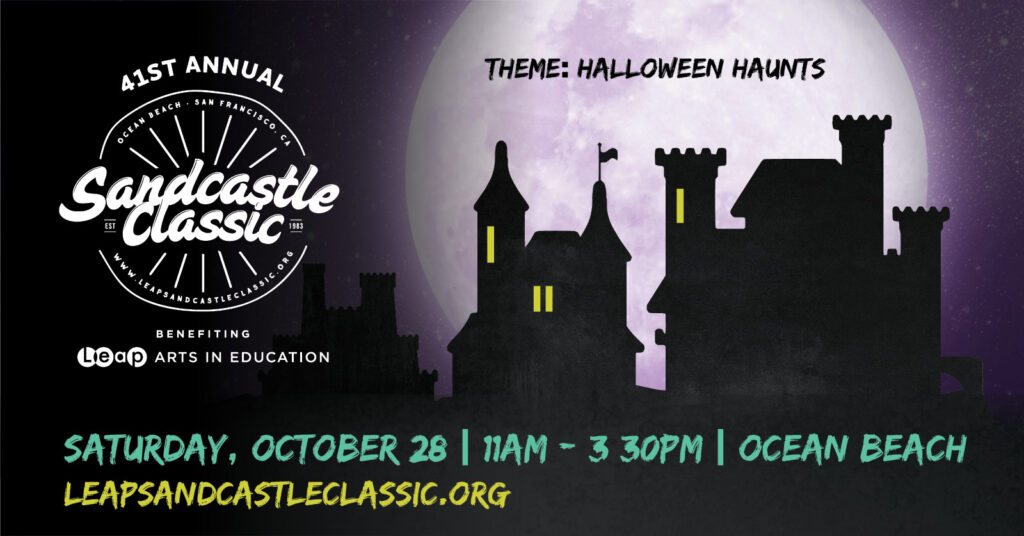 2023 Sandcastle Stage Performers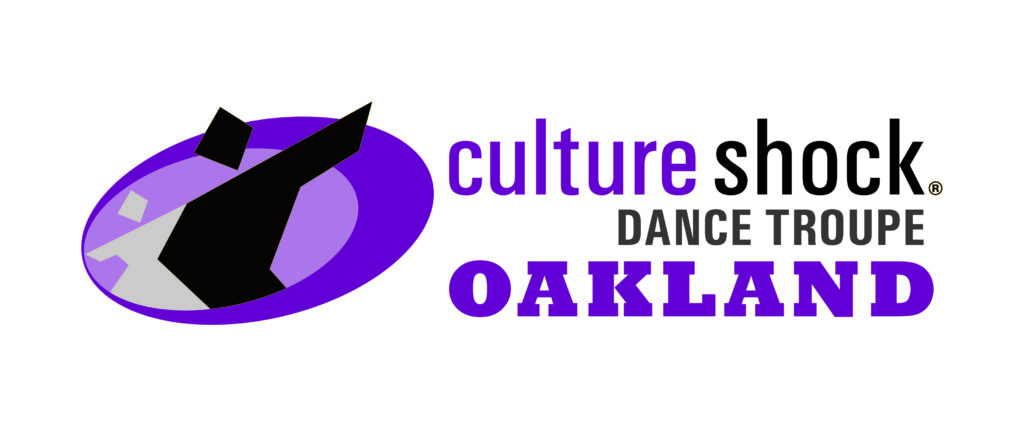 OUR MISSION
Culture Shock® DC is a Hip Hop dance organization dedicated to innovative
performance, artist development, and community enrichment, revealing the power and
beauty of Hip Hop to diverse communities.
OUR MOTTO
"We are a troupe of individuals who, through the power of music and dance, cultivate
self-worth, dignity, and respect for all people.
Who We Are
Culture Shock® Oakland (CSO) is a Federal non-profit 501(c)(3) hip-hop dance troupe dedicated to
innovative performance, artist development, and community enrichment. Founded in 1993, Culture
Shock® Oakland is a subsidiary of the worldwide network of Culture Shock® Dance Troupe, Inc.
CSOconsistently presents urban dance forms with the artistic excellence and professional dedication
traditionally associated with Jazz, modern, and other styles of dance. Our commitment to hip-hop dance
as a highly entertaining, inspiring, and engaging art form is at the core of every activity and program that
we offer. In addition to bringing first-rate performances to diverse audiences, we provide unparalleled
opportunities for artistic expression and career development or our dancers. We encourage all members
of our community to express themselves creatively regardless of their differences, including social class,
age, gender, race, or sexual orientation. We provide a positive environment for dancers to experience
personal growth, teamwork, and leadership. We are a highly diverse group of individuals who, through the
power of hip-hop music and dance, cultivate self-worth, dignity, and respect for all people throughout our
global community.

Culture Shock ® Oakland under the direction of Kim Sims-Battiste is comprised of five dance troupes,
each of which provides training, rehearsal, and performance opportunities for dancers and
choreographers with various levels of experience and skill. Auditions are held every year for each troupe.
Each performs at various venues and events and all take part in a nationwide choreographers' showcase
every October in which Culture Shock dance troupes from around the world convene for a full weekend of
performances, training, and community building. Each team provides a unique environment for personal
and artistic growth as well as building team and community structure.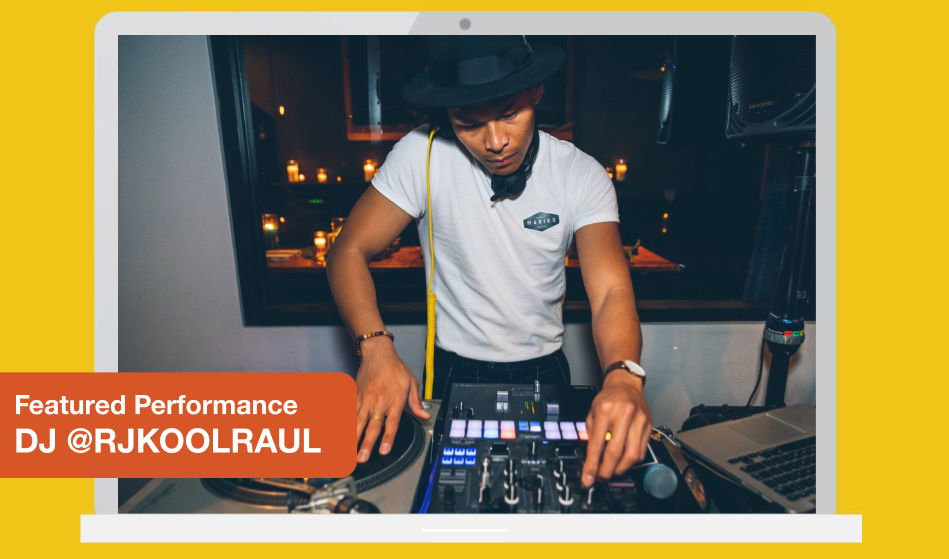 ---

2020 Sandcastle Stage Performers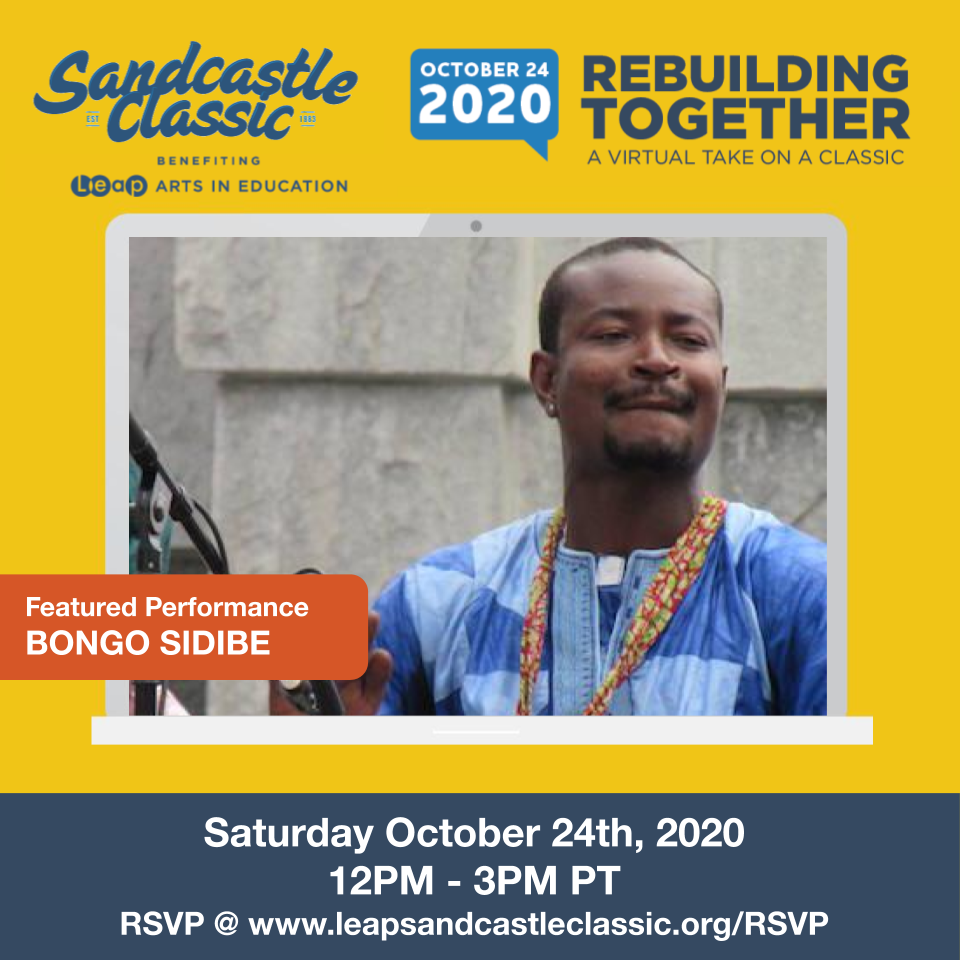 2019 Sandcastle Stage Performers
Alphabet Rockers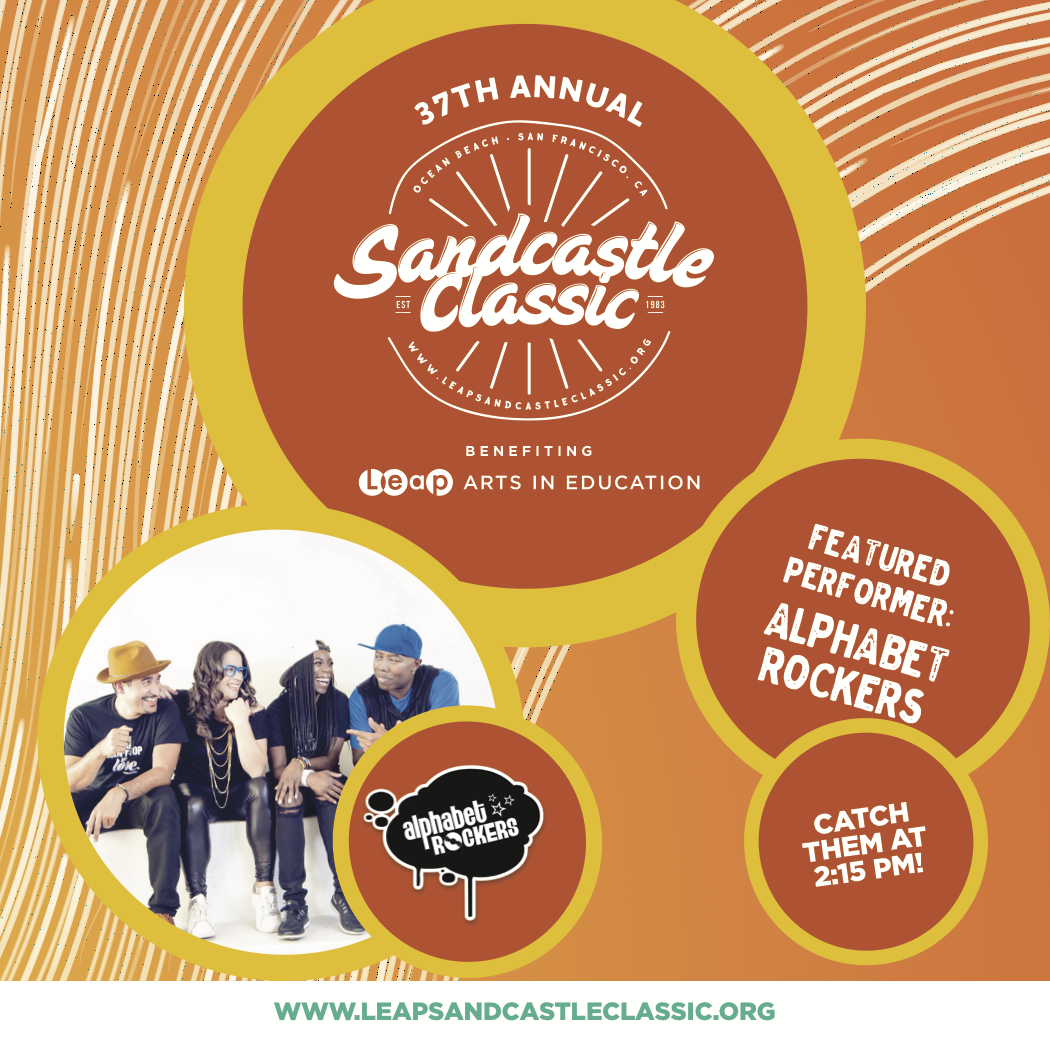 Alphabet Rockers use hip hop to shift the way people see themselves and each other—it's music that makes change. Their shows, school assemblies, and family workshops bring joy to tough topics. The group, led by Kaitlin McGaw and Tommy Shepherd, creates brave spaces for parents, educators and children to shape a more equitable world through hip hop. Get the latest news via alphabetrockers.com
San Francisco Rock Project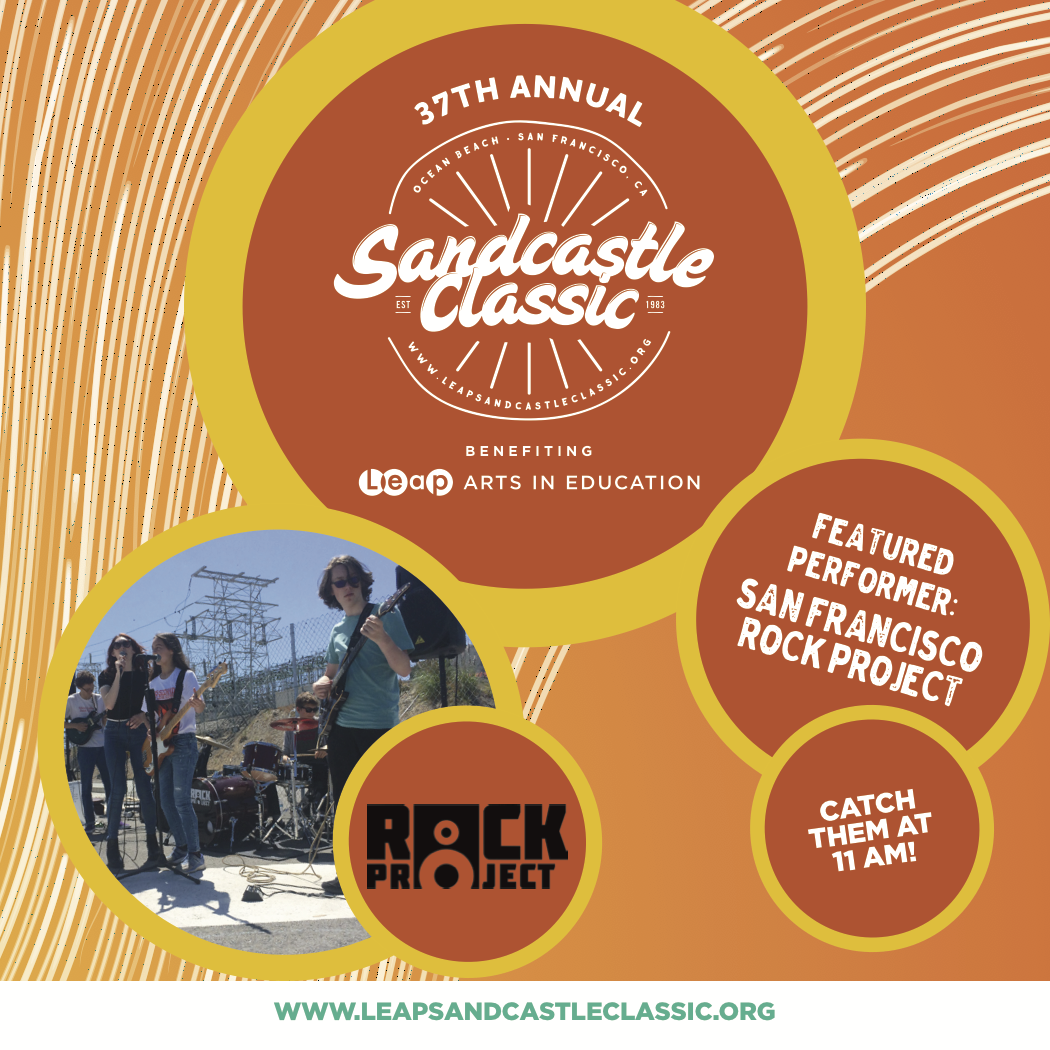 Rock Project teaches the fundamentals of music to the youth of San Francisco (adults too!) with a focus on live performance. The SF Rock Project House Band plays shows year-round in the Bay Area and beyond at exciting public events and venues. Rock Project offers multiple opportunities to take the stage, and also offers individual instrument lessons, as well as group ensembles, instrument lending library and much more! Check it out at www.rockprojectsf.org.
Blue Swamis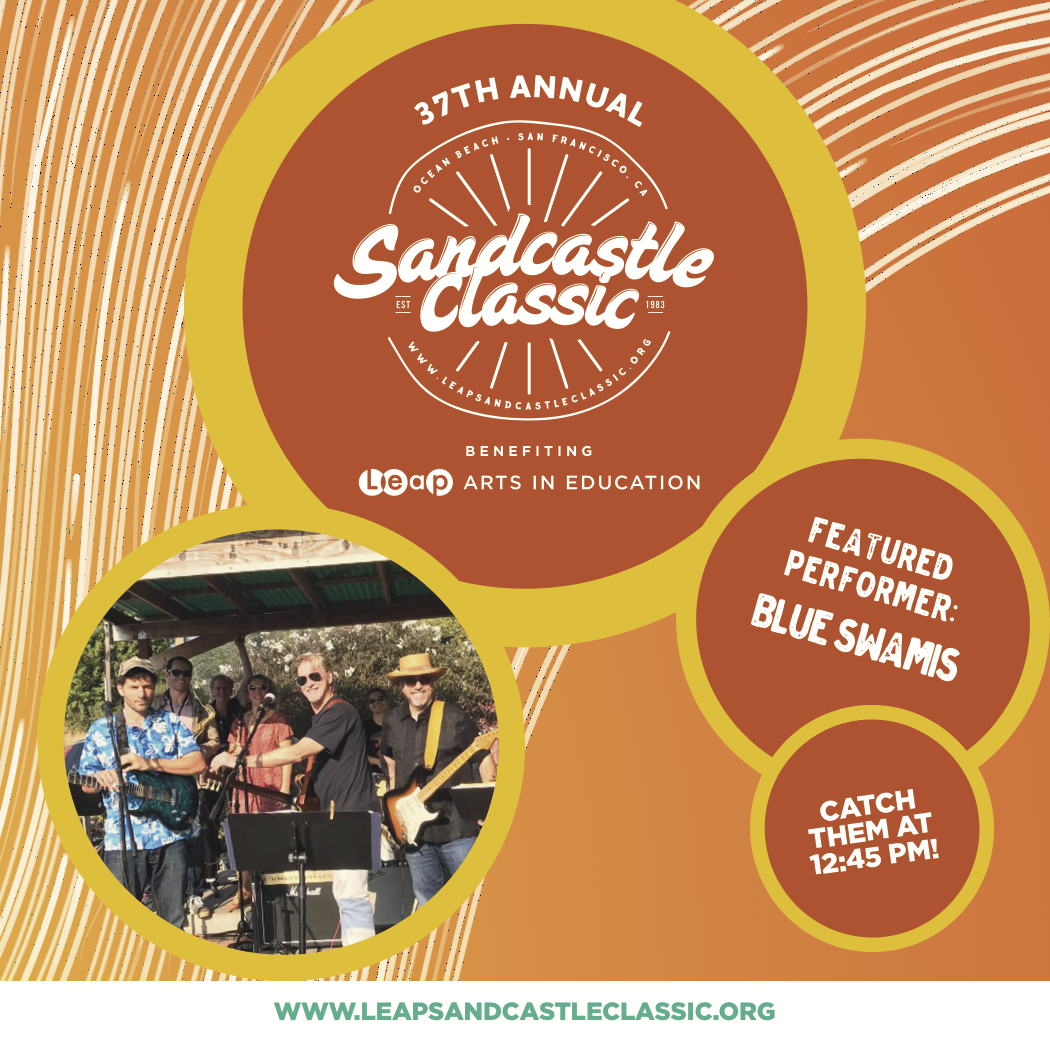 The Blue Swamis are 8 music lovers from a diverse realm of influences and years, who come together, putting their unique stamp on rock and blues classics both familiar and obscure. A Blue Swamis set guarantees a sense of familiarity, while taking the listener to sonic and emotional realms beyond the boundary last seen. They may also cause you to get up and dance.
Hosted By RJ Kool Raul Navalta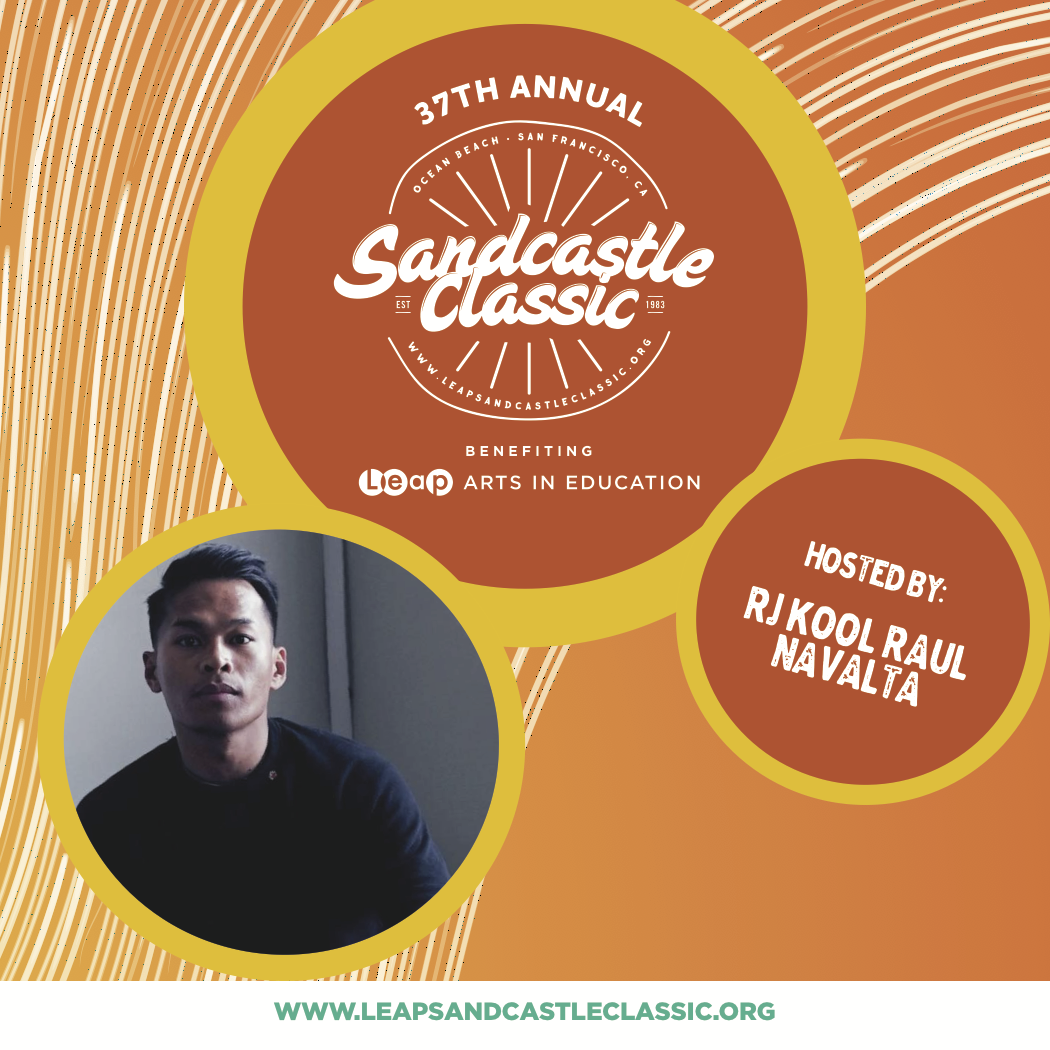 ---
Past Sandcastle Stage Performers

The Pocket is a Hip Hop, Funk, Reggae, Soul cover band and rhythm section of the Latin/Reggae band, Bayonics. Formed due to the positive feedback from fans while performing a few cover songs during their Bayonics concerts, they cover hits from the 60's to the present playing popular San Francisco music venues, restaurants, festivals as well as weddings, corporate and private events.
The Pocket is (L-R): Guitar – Ryan "Shreddy" Riley, Keys – Anthony "Cologio" Del Barrio, Lead Vocals – Rojai(Row Juh), Bass – Bill "Billy" Hager, Vocals – Shamilah Ivory, Drums – Pedro "Petey" Gomez. Additional Pocket Players: Dame The Drummer, Mike Shiono, Imanuel Junaedy, Patrick Korte.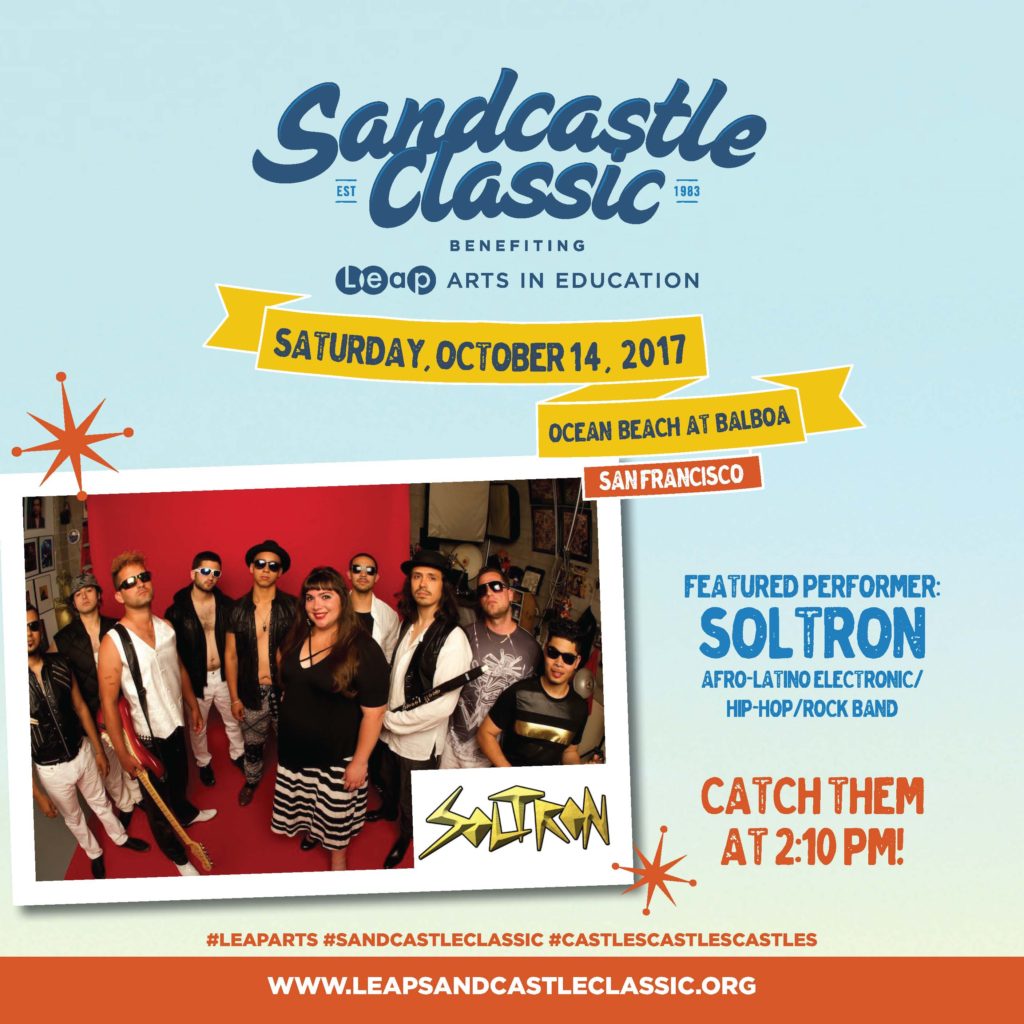 Soltron was named an "Emerging Latin Music Artist to Watch in 2017" by the popular arts and travel site, Culture Trip. The 10-piece band burst onto the San Francisco Bay Area music scene in 2014. Following their self-titled CD release in 2016, they are in-demand for club dates, festivals, and private events. Soltron is a musical powerhouse fusing salsa, hip-hop, samba and rock. Their socially conscious lyrics combined with Afro-Latin rhythms always get the crowd moving. Check out the band's website at www.soltronsf.com. Follow them on Facebook, Instagram and Twitter: @SoltronSF.
Adriana Marrero – vocals
Roque Baron – Vocals
Daniel Riera – Music Director, EWI, flute
Manolo Davila – Artistic Director, guitar, vocals
Ahkeel Mestayer – percussion
Remi Spiro – percussion
Arturo Blanco – drum set
Omree Gal-Oz- Keys
Christian Navarro – trumpet
Ruben Sandoval – trombone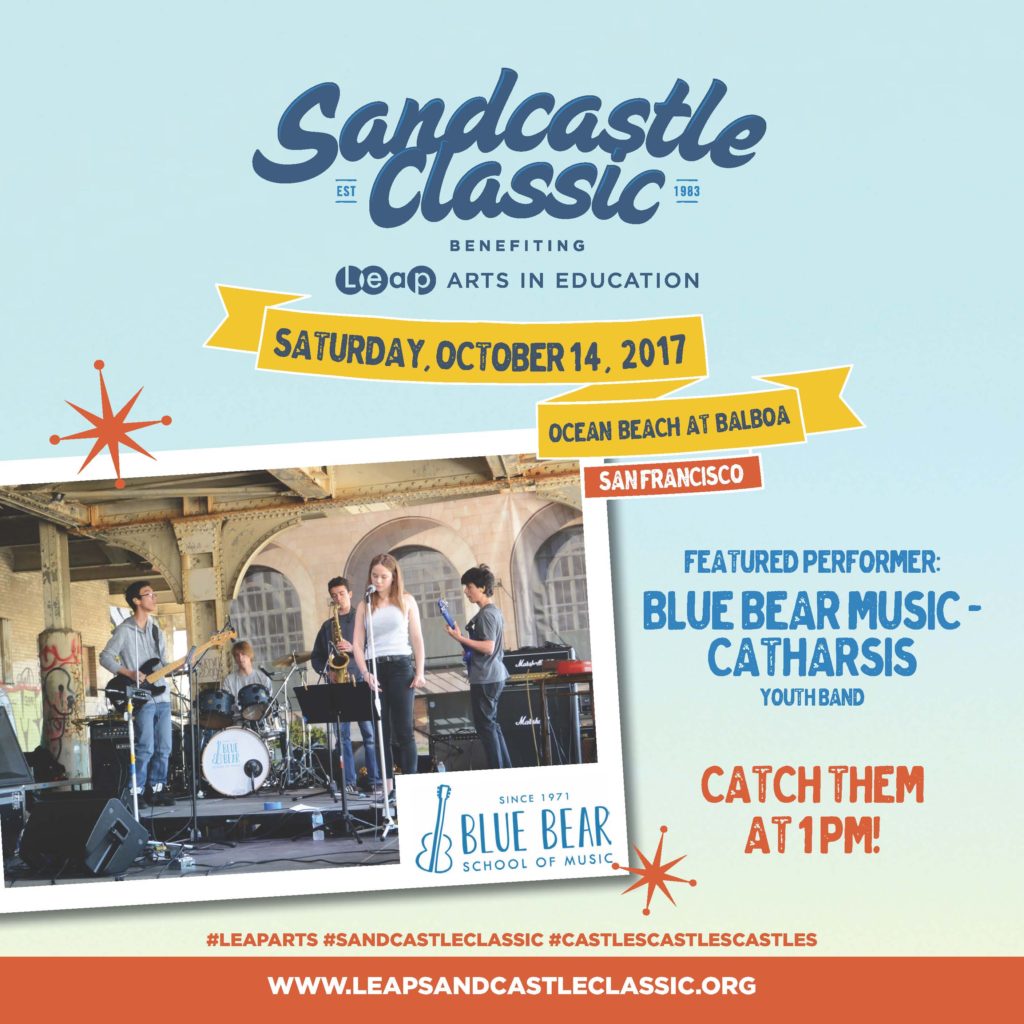 Blue Bear School of Music's nonprofit mission is to empower people to play the music they love.
Blue Bear School of Music is San Francisco's leading destination for aspiring musicians of all ages and all skill levels who want to enjoy learning and playing rock, blues, jazz, folk or pop. Blue Bear, a nonprofit organization founded in 1971, is a place where learning and playing popular music is fun and affordable, where people come together who love music, and where each student's unique talents and goals are recognized and supported. Blue Bear provides annual scholarships by audition to talented young musicians, and offers "sliding scale" pricing to those with financial need.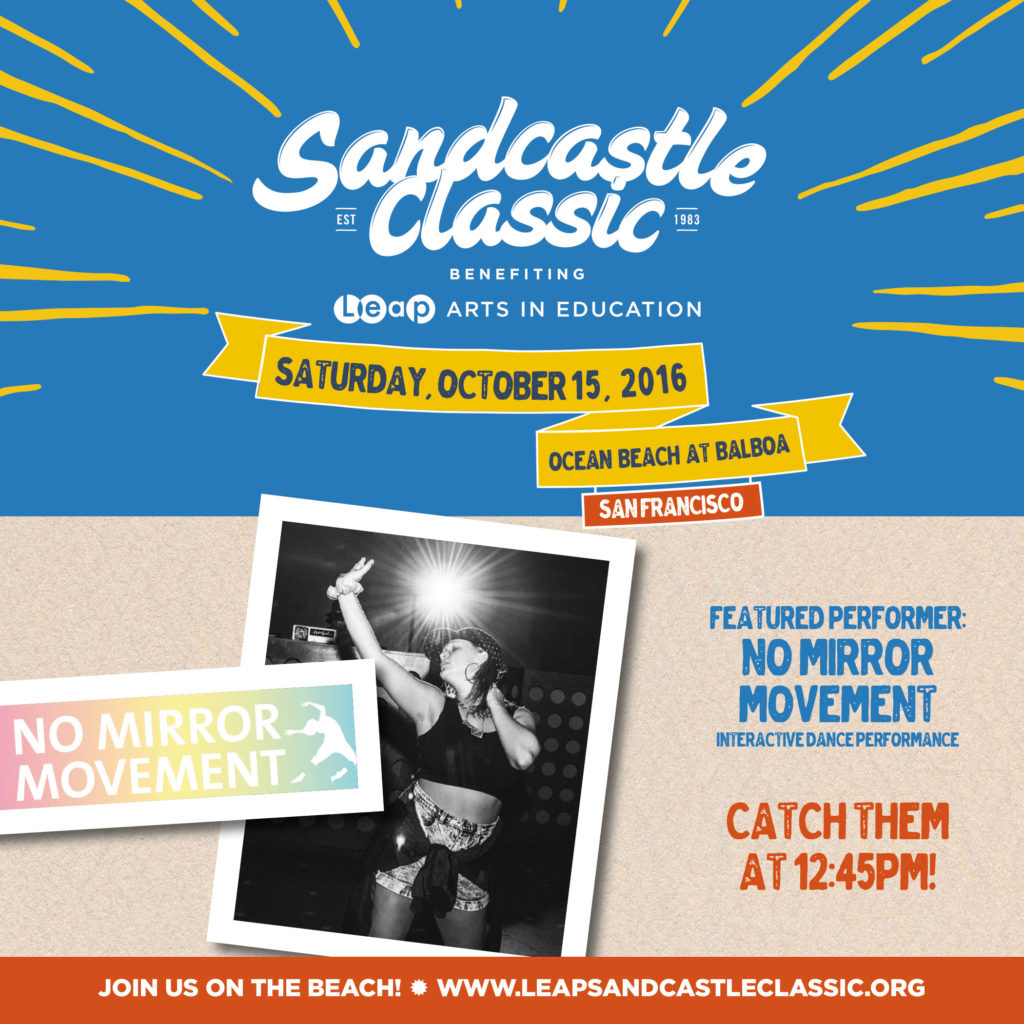 "Getting dancers out of the mirror and back into their bodies."
Under the direction of Samantha Ethridge, No Mirror Movement is a community whose mission is to get dancers out of the mirror and back into their bodies by using dance as a tool to build self-worth, promote body acceptance and challenge society's deeply held myths of beauty and health.
No Mirror Movement does this by offering programs that are inclusive, creative and focused on providing dancers with accurate information and helpful skills to foster holistic wellness: mind, body and spirit.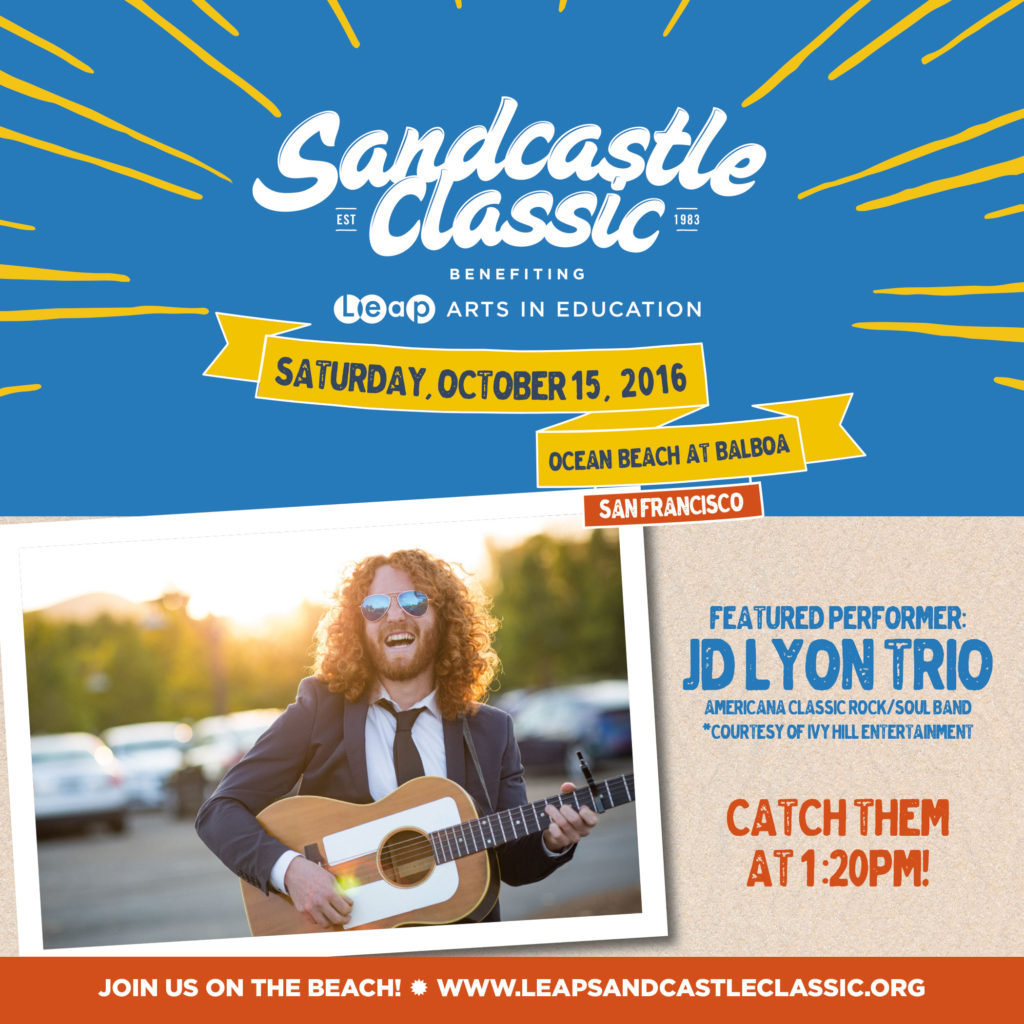 JD Lyon is a singer, guitarist, and songwriter specializing in an Americana inspired mix of classic rock and soul music. He is most commonly known for his work fronting Tumbleweed Wanderers, which he founded in 2011. Over the past five years they've gone from busking outside of shows to headlining those same venues, selling out notable clubs such as The Independent and Great American Music Hall, and opening at the Fox Theater and The Fillmore. Along the way they've released two full length albums, three EPs, and toured the country numerous times, playing festivals such as Outside Lands, Hardly Strictly Bluegrass, and High Sierra, as well as touring with seasoned acts such as Greensky Bluegrass, Moon Taxi, The Revivalists, and Angus Stone.
*To apply to perform on the Sandcastle Stage, email Event Producer Gina Rosales at [email protected].