Fundraising Tools
Take a look at these fundraising resources, tools and templates for everything you need to meet your team's fundraising goal!
---
Top 10 Tips For Boosting Your Team's Fundraising
The below tips and tricks have been used successfully by previous teams to support their fundraising efforts. We encourage you to review and apply these approaches as appropriate for your team.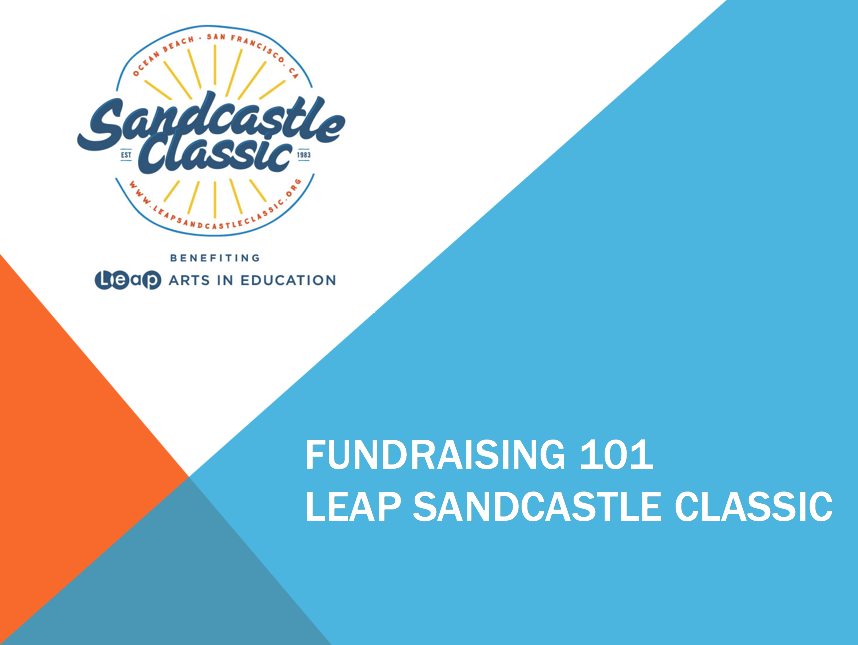 Click to download the Powerpoint Presentation 
from our Team Fundraising 101 Workshop. 
---
1. LEVERAGE YOUR BUSINESS CONTACTS.
Make a list of the vendors, subcontractors, companies and individuals your company does business with, and then mail or email pitch materials to your key contacts. You can use or borrow from the sample Team Donor Solicitation Letter.
2. PERSONALIZE YOUR PITCH.
Though a sample Team Donor Solicitation Letter is available online, feel to create your own! Whenever possible, add a personal touch to these pitch letters. For example, one year a team mailed sample sunscreen packets along with their donor outreach letters to encourage people to join them at the beach!
3. EMPHASIZE DONOR BENEFITS.
"What's in it for me?" can be a common question in the minds of potential donors, and here are some potential answers:
NETWORKING. A fun way to develop deep partnerships within your own industry and others.
TEAM BUILDING. Consider inviting your team donors to join you on beach day at your team's site for great day at the beach!
EXPOSURE. Gain recognition for your company. This is a long-standing, high-visibility annual event that draws regional and national attention.
SERVICE. Investment in your community and a positive impact on local children. 100% of proceeds go directly to Leap's visual, performing, and architecture arts education programs, serving over 6,000 children every year. Your support helps students achieve their potential!
4. SHARE YOUR TEAM'S FUNDRAISING PAGE 
Be sure to share the link to your team's fundraising page with potential donors via social media and/or links on your company's website. We strongly suggest your team adds personal touches to your page like a team photo, logo, or bio. Submit these materials to sandcastle@leaparts.org and we'll add them to your team page for you.
5. SHARE WITH YOUR COWORKERS AND WITHIN YOUR SOCIAL CIRCLES.
Think about all the people you know and all the people your team knows: coworkers, alumni associations, social and fraternal organizations, gym buddies, sports teams . . . the list is endless! Each donation makes a difference, and sharing your team's fundraising page makes it even easier.
6. TELL A COMPELLING STORY.
If you've participated in Leap's Sandcastle Classic before, you already know how special and unforgettable the experience can be. Or, if you have a passion for the arts or Leap's mission to help children learn through the arts, share your experience and why you think this cause is worthy of support.
7. USE SOCIAL MEDIA.
#LEAPARTS
#SANDCASTLECLASSIC
Facebook, Instagram, Twitter, LinkedIn and many more outlets are powerful fundraising tools, and help make it possible to spread the word far and wide! Share a link to your team's fundraising page with your social media circles, and encourage your employees and colleagues to do the same.
8. THINK OUTSIDE THE BOX.
Teams have held bake sales, car washes, benefit concerts, and mini-fundraisers at local bars and restaurants to raise money for the Sandcastle Classic. The sky's the limit—use your imagination and have fun!
9. FOLLOW UP.
Follow-up is the key to fundraising success! If you are sending materials via email, a friendly check-in by phone can be a very effective way to follow up and further engage with potential donors.
10. GIVE THANKS AND RECOGNITION.
A little gratitude goes a long way and helps to ensure that donors feel appreciated. Some examples include sending donors personalized thank-you letters, photos from the event, or hand-drawn thank-you cards from the students at your partner school.
---
FYI: Leap's fundraising platform Flipcause remits an automatic email receipt for all online donations. Leap will send out a thank-you letter to all donors following the event in November, which serves as a donation acknowledgement letter for tax purposes.