Here are the various logos you'll need for designing your Team Sign & Team T-shirts:
Leap Logo

Sandcastle Classic Logo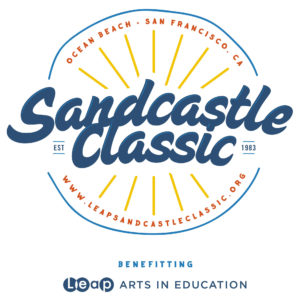 Download Sandcastle Classic JPG
Download Sandcastle Classic PNG
Logos and descriptions for team donors: Donation acknowledgements vary depending on the size of the donation to your team. Visit here to review team donor giving levels and corresponding benefits.
Donors who contribute $500 and up, will be acknowledged with their logo on www.leapsandcastleclassic.org. If contributors to your team prefer Leap posts a particular version of their company logo, please ask them to submit a .jpg version of the preferred logo to sandcastle@leaparts.org. Donors who contribute more $1000 and up will be acknowledged with a one line or 50 word paragraph description about their company. Please ask donors to submit these descriptions to sandcastle@leaparts.org as well. Thank you!