Tools for working with partner schools
Take a look at the resources listed under School Documents on the left-hand side of this page for important tools to support working with your team's partner school.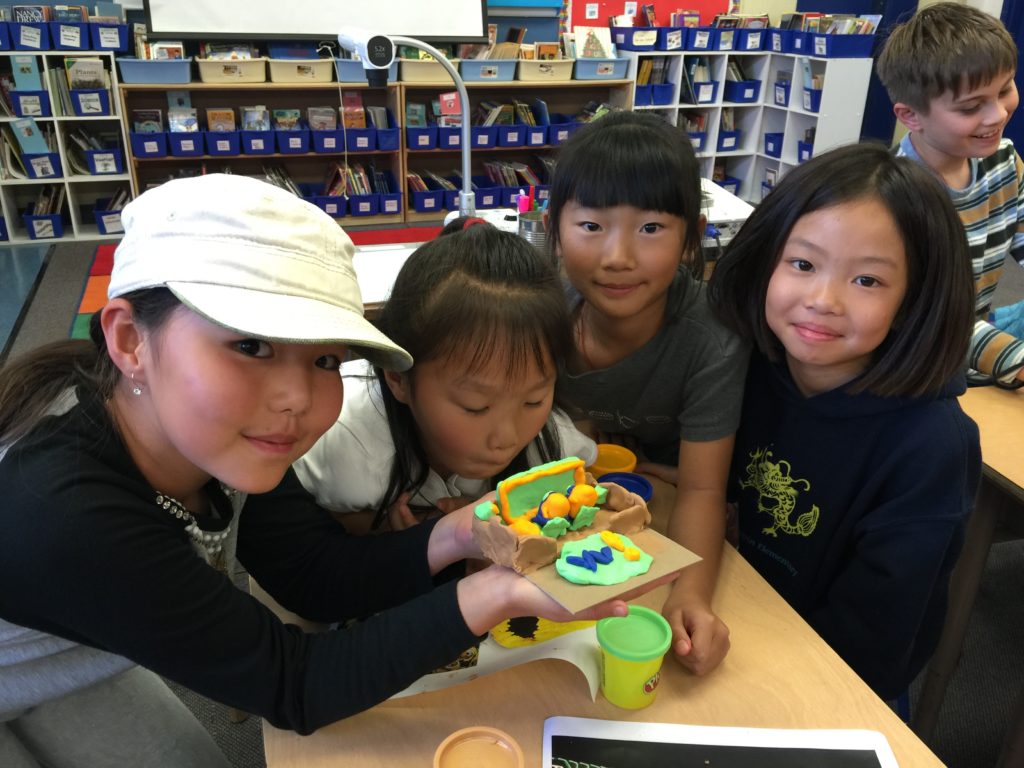 Partner School timeline
One of the best parts about participating in the Sandcastle Classic is the opportunity to work closely with students. Over a series of 2-3 school visits, your team will work with students to create a design for your sandcastle around this year's theme; capturing the students' creative voice and giving them a unique chance to collaborate alongside working professionals. The students from your partner school will also join your team on the beach in October and help build the sandcastle you've designed together. 
While Leap encourages you to work with students that we serve through our programs, your team is not not limited to working with Leap schools. Should you have difficulty in identifying a school partner, we are happy to help match you with one. Contact us for more information.
Below is a general timeframe for working with your partner school:
May
Identify which person on your team will be responsible for communicating plans and logistics with your school partner. This person should reach out to your school of choice as soon as possible, at the end of the previous school year in May to solidify their partnership. Determine which teacher will be your team's contact at the school and schedule a first meeting just before school starts in August.. Exchange all contact information—cell phone number, school phone number, email, etc. Determine best times to reach each other and best mode of communication.
At minimum, a team should parter with at one class at a school.  3rd, 4th, and 5th grade students are at ages best suited for participating in Sandcastle. When thinking about number of kids on your team,  aim for a 1:3 adult to student ratio on the beach to keep things running smoothly the day of the contest.
August and September
Have your team representative meet with your partner teacher one-on-one to discuss goals. If the school isn't a Leap partner school and they don't generally participate in a Leap residency, upon request, Leap will send a special packet to the principal's office to inform him or her about our programs. This is an opportunity for the school to receive a "mini-program" through the team members who provide an experience similar to a typical Leap residency program, just on a much smaller scale. Describe the Leap Sandcastle Classic participation process if the teacher is not familiar with it. Explain that your team will provide lunch and a t-shirt for each student.
Remember to have the parents of students on your team review and complete the Parent/Guardian Info Packet + Consent Form and return the Consent Form to Leap before the Sandcastle Classic.
---
Teachers should understand that teams are raising funds to support Leap's art education programs, and that these funds might not necessarily be used for their individual school. 
---
October
On the day of the Sandcastle Classic, be at the beach before the kids and their teacher are scheduled to arrive to set up and welcome early-bird kids getting dropped off by parents. Make sure you and the teacher have exchanged cell phone numbers in case there are issues with weather, transportation, etc.
Have something for all the kids to do regardless of skill level, and encourage the kids to help each other, cooperate and work as a team.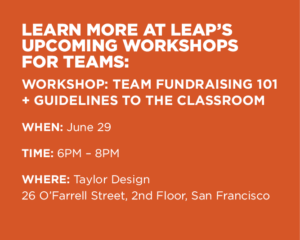 Learn how to fundraise with ease, plus tools for
working with students as team members
in the classroom and on the beach.