Registration is NOW OPEN!
Space is limited and we are accepting a total of 30 teams for the 2017 Sandcastle Classic.
Teams of architects, engineers, contractors, designers, corporations, and local elementary school students work together to build giant sand sculptures. The funds raised by teams and sponsors make it possible for Leap to continue to provide arts programs to Bay Area students.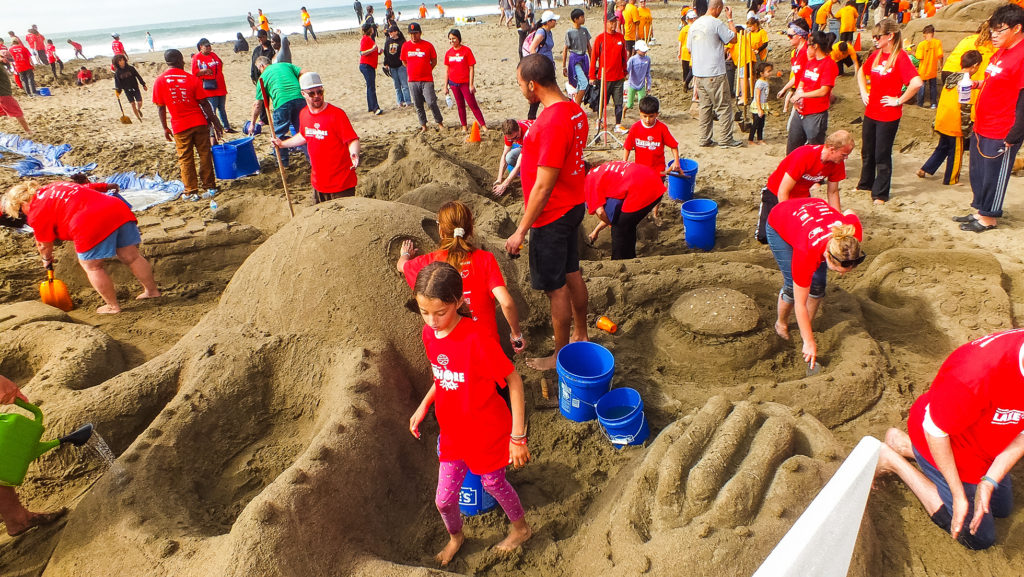 ---
What it Takes to Make a Team:
1. Read the Participation Guide for everything you need to know about participating as a team, then complete the registration form below. 
2. Submit your $500 registration fee. This fee will count towards meeting your team's fundraising minimum of $4,000, and will also reserve your team's spot in the Classic. You may pay the registration fee on your team's fundraising page, by using the "Donate Now" button, or sending a check to Leap's office (payable to Leap, 2601 Mission Street, Suite 603, San Francisco, CA 94110).
3. Donate and/or raise a minimum of $4,000. Most teams are comprised of several companies working together and normally exceed this amount. If you would like assistance in partnering with other companies or finding additional team members, please contact Leap. We're happy to help with matching you. 
*Teams must raise or donate a minimum of $4,000 by the time of the event in order to participate on beach day.
4. Choose a school to partner with. You will visit a class, and work directly with kids to design your sculpture, which you will then build together on the beach. Leap encourages you to work with students that we serve and can help match you with those schools. Contact us for more information.
5. Provide your own supplies/materials to build the sandcastle at the event. View a list of suggested items at www.leapsandcastleclassic.org/tools. 
6. Send at least two representatives (or more) from your team to all Sandcastle Classic related events including:
Sandcastle Building 101 – September 16th at Ocean Beach (Sloat & Great Highway)

Sandcastle Pre-Party – September 28th at NBBJ

Sandcastle Post-Party: "Castles & Cocktails" – October 25th at Exygy
7. Submit contact info for two representatives from each company partner on your team plus two representatives from your partner school. These company partner representatives will receive important weekly correspondence from the Leap office regarding event reminders, fundraising resources, and tips for working with your partner school. Enter contact info (first name, last name, email, phone) for your team's parter company and partner school representatives through the Team Registration Google Form when you sign up, or email the info to sandcastle@leaparts.org. Leap will create a group gmail address with your team's contact info so you can communicate efficiently to the entire group
---
Team Registration Form