Registration for the 2019 Sandcastle Classic will open May 13th, 2019
Check back here for a link to register your team!
---
Space is limited and we are accepting a total of 30 teams for the 2019 Sandcastle Classic.
Teams of architects, engineers, contractors, designers, corporations, and local elementary school students work together to build giant sand sculptures. The funds raised by teams and sponsors make it possible for Leap to continue to provide arts programs to Bay Area students.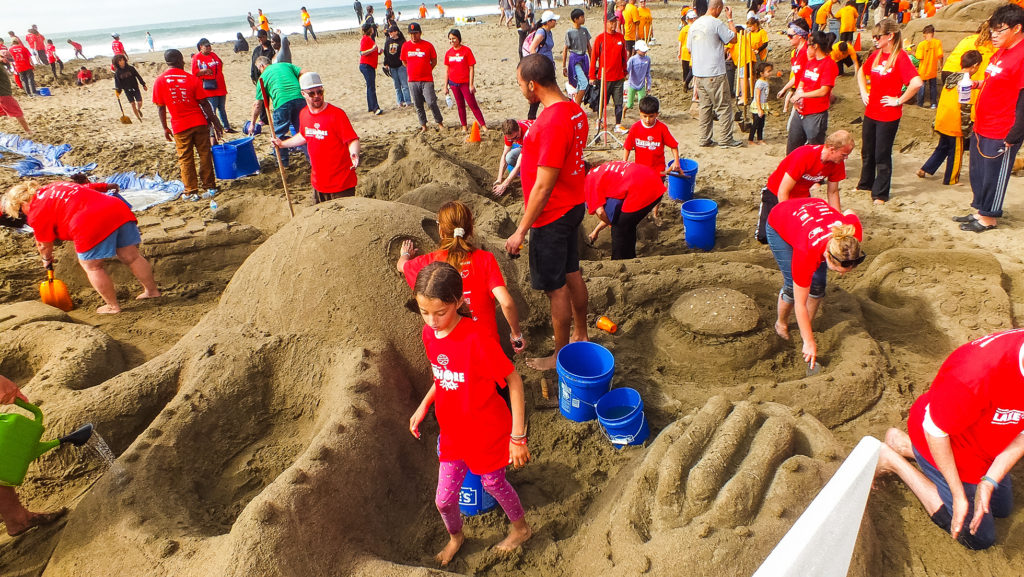 ---
What it Takes to Make a Team:
1. Form your team. Identify your company partners and partner school. Most teams are comprised of 3-5 company partners and one classroom at a partner school. Team members visit the class, and work directly with students to design your castle, which you will then build together on the beach. Leap encourages you to work with students that we serve through our arts education programs. If you have any questions on how to form a team, or would like assistance partnering with other companies or a partner school, please contact Leap. We're happy to help match you.

2. Register & Get Acquainted. Complete the registration form (will be posted on May 13th, 2019) by July 12th, 2019. You do not need to have all the details of your team finalized in order to register, like your team name, final team make-up, etc. Read through the info on the Team Participation Guide and sub-tabs, reach out to the Leap team with any questions.
3. Submit your $500 registration fee. This fee solidifies your team's registration, and will count towards meeting your fundraising efforts. 
4. Identify roles and responsibilities. Work with your other team members to determine how to divide up the different responsibilities and projects. Think about your team members' different interests, strengths, and capacities and match them with corresponding roles. Visit here for ideas on how to divide and conquer.
5. Donate and/or raise a minimum of $4,000. Most teams are comprised of several companies working together and normally exceed this amount. We encourage teams to set a fundraising goal of $10,000 in order to meet the event's larger campaign goals. 
6. Provide your own supplies/materials to build the sandcastle at the event. Review a list of suggested tools, and the Day Of Event Info packet to ensure your team has a handle on all the final details. 
7. Send at least two representatives (or more) from your team to all Sandcastle Classic related events
---
Questions? Contact Leap at sandcastle@leaparts.org or (415) 512-1899 for more info.