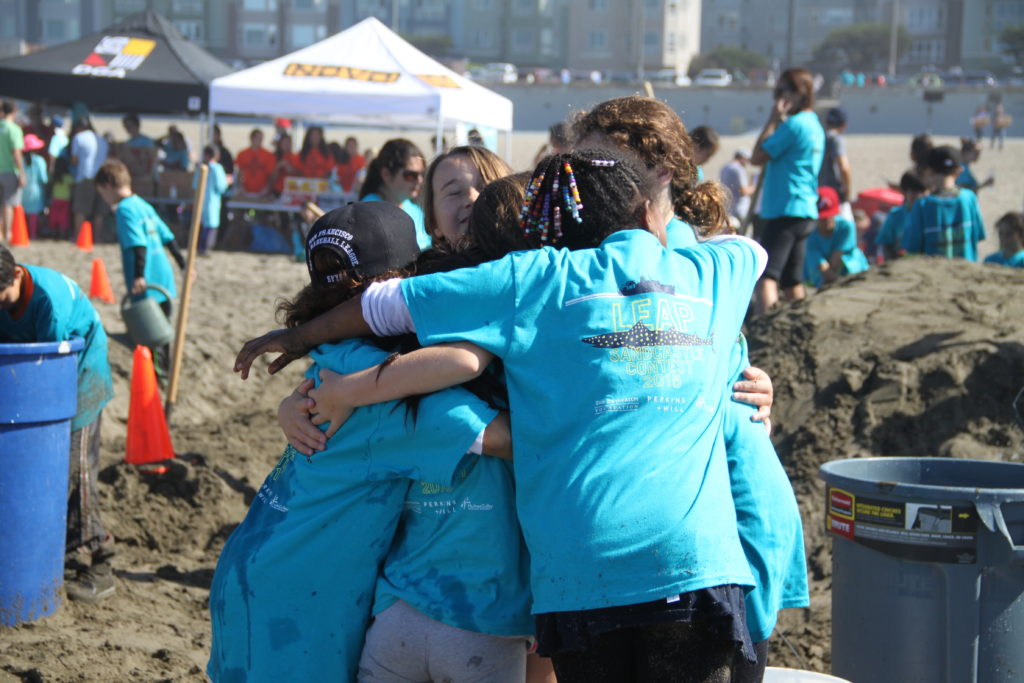 Q: What is Leap's Sandcastle Classic?
A: The Sandcastle Classic is the biggest sandcastle competition in Northern California. Teams typically comprised of architects, engineers, contractors, designers, corporations, and local elementary school students work together to build giant sand sculptures. The funds raised by teams and sponsors make it possible for Leap to continue to provide arts programs to Bay Area students.
---
Q: When is Leap's Sandcastle Classic?
A: Leap's 37th annual Sandcastle Classic is scheduled rain or shine for Saturday, October 26th, 2019 from 11AM – 3:30PM.
---
Q: What is the event schedule? 
A: 10AM: Teams arrive at Ocean Beach and begin set up
11AM: Sandcastle building begins
12PM: Sandcastle Stage performances begin
1pm: Judges will start touring team sites
2pm: Judges complete final tour of team sites
2:30pm: Building must stop
3pm: Awards ceremony
3:30pm: Event ends
View a more detailed event schedule.
---
Q: Where will the Sandcastle Classic be held?
A: Leap's Sandcastle Classic is held at Ocean Beach in San Francisco, close to the intersection of Balboa Street and the Great Highway (near the Cliff House restaurant). See the Sandcastle Classic location on the map.
---
Q: How do I get there and where can I park?
There is very limited parking at Ocean Beach, and it is free, but first-come, first-served. Priority is given to teams participating during the competition. Public transportation is highly encouraged, and several bus lines run near Ocean Beach.
Please visit 511.org and use the "trip planner" for the most up-to-date information.
---
Q: How much does it cost to attend?
A: 
Admission is free to the general public, who are welcome to come and watch the teams building their sandcastles. Members of the public are also invited to participate at one of Leap's Community Castles, which are drop-in sand sculpture building areas open and free to everyone.
Learn more
about Leap's Community Castles.
The Sandcastle Classic is a fundraiser to support Leap's arts education programs, and registered teams and sponsors make donations and raise funds in order to participate.
---
Q: How do I register a team or sponsor the event?
A: Visit here to register as a team or event sponsor.
---
Q: Where does the money go?
A: Funds raised from the Sandcastle Classic will help make it possible for Leap to serve over 8,000 students in 2019 across more than 30 Bay Area schools with hands-on learning experiences in the arts. Our goal for 2019 is to raise $300,000 to help Leap continue to expand its programs and bring the arts where they are needed the most.
Check out Leap's Annual Report to learn more about how we effectively utilize donor funds to make a difference in the lives of Bay Area children.
---
Q: Who attends this event?
A: Approximately 4,000 people attend Leap's Sandcastle Classic each year, including: families, kids of all ages, cyclists, fans of Ocean Beach, and supporters of the arts and education. All are welcome!
---
Q: What happens if it rains?
A: 
Rain rarely occurs in October in San Francisco, but Leap's Sandcastle Classic will be held rain or shine! Please check the
Ocean Beach weather forecast
 for the most up to date information.
---
Q: What are the awards for this year? 
A: 
Top awards include: Best in Show, Silver and Bronze; Best Participation of Students; Best Site Sign; Best T-shirt; People's Choice Award, and Top Fundraising Team.
See photos
of the award-winning sand sculptures posted after each year's event, and
learn more
about the Sandcastle Classic awards.
---
Q: How can I get my child's school involved?
Q: How do I volunteer?
A: Learn more about volunteering at the Sandcastle Classic.
---
Q: What is the event hashtag?
A: #LeapArts
#SandcastleClassic
---
Not finding what you need? Reach out directly through our Contact Us page.